The TGF Conservation Fund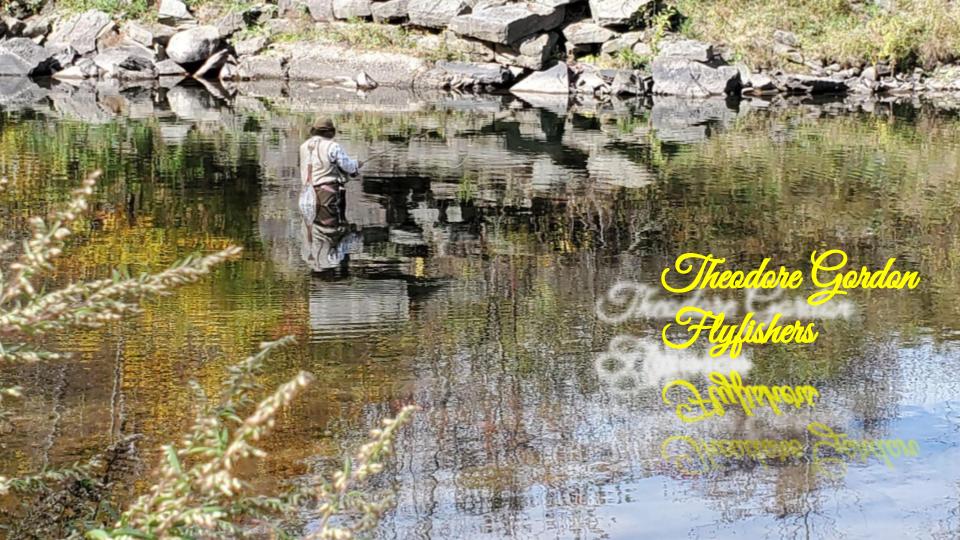 Theodore Gordon Flyfishers was established over fifty years ago to advocate for clean waters and healthy fisheries in the Catskills, a mission that now extends to rivers and streams throughout the tristate area.  The conservation work of TGF is coordinated by TGF's Vice President for Conservation and members of the Conservation Committee and financed through the TGF Conservation Fund.
The Conservation Fund is dedicated to habitat improvement and environmental advocacy activities that will restore and protect self-sustaining wild-trout fisheries.  The fund supports cooperative efforts with other conservation groups, hands-on maintenance of trout habitats by TGF volunteers, and improving public access to and enjoyment of responsible angling.
The Good Fight News from the Conservation
- Charles Neuner
The past year has been a busy one for TGF conservation initiatives. In addition to TGF's commitment to broader cold-water conservation and river management issues, we are actively seeking opportunities to facilitate and support conservation and sporting organizations in their trout stream restoration projects and specifically those projects that offer high value in terms of habitat benefits. Following are several trout stream improvement projects in which TGF is currently involved.
Carmans River: Wing Dam Replacement Project
The Carmans River is a spring creek in Suffolk County, New York, that contains native brook trout, as well as stocked and wild brown trout and rainbow trout. The Carmans is the focus of restoration work by the Art Flick Chapter of Trout Unlimited, and TGF has committed funding to assist them in their conservation and restoration efforts on the river. The current projects include replacement of the existing wooden wing dams (structures that create holding water for trout) with planted, earthen structures that serve the same purpose while providing trout with the further advantage of native plants for shade and protection from predators. Permits have been applied for and applications filed by the Art Flick Chapter of Trout Unlimited to replace and restore existing in-stream habitat structures on the Carmans River in Yaphank, New York.
Quashnet River and Red Brook: Riparian Restoration
TGF has provided funding to assist the Cape Cod Chapter of Trout Unlimited in its continuing restoration efforts on the Quashnet River and Red Brook, both of which are historic sea-run brook trout fisheries.
Ausable River: Grant Quarry Dam Removal
The Lake Champlain Chapter of Trout Unlimited has applied for an Embrace-A- Stream grant to facilitate the removal of the Grant Quarry Dam on the West Branch of the Ausable River. The Grant Quarry Dam is located approximately half a mile upstream of Monument Falls and approximately four miles east of the village of Lake Placid. The dam prevents the migration of trout, salmon, and prey fish between the upper and lower reaches of the river, and its removal will restore the migration of fish as well as the natural hydraulics of the river. The current budget for the project is approximately $103,000 (available funds and committed funds). The New York State Council of TU has asked if TGF would be interested in donating to the project, and we are currently reviewing the project scope and details prior to our participation.
Musconetcong River Restoration; "A"-Frame Project
Our board member Julian Antebi has been working with the New Jersey State Council of Trout Unlimited regarding a habitat-restoration project on the Musconetcong River. The Musconetcong River is home to wild brook trout, wild brown trout, and rainbow trout. The restoration project is being championed by Central Jersey Trout Unlimited and includes plantings and riparian restoration along the land bordering the river. The project is being funded through a variety of sources, and TGF has donated $2,600 to facilitate its completion.
Sportsman's Alliance for Marcellus Conservation
The Sportsman's Alliance for Marcellus Conservation is an alliance of sporting stakeholders (anglers, hunters, trappers, and participants in other outdoor activities) formed and championed by Trout Unlimited. TGF will now have a member representing us as our contact in discussions with the SAMC on Marcellus Shale issues, which will allow TGF to follow the discussions more closely and enable us to decide when and where TGF should lend its support.
Carlls River: Habitat Improvement and Riparian Restoration
Carlls River is a spring creek located in Babylon, on Long Island, that holds a population of stocked and wild brown trout, as well as native brook trout. The Long Island Chapter of Trout Unlimited (LITU) has championed the restoration of Carlls River (annual cleaning, electrofishing for evaluation of holdover trout, invertebrate studies, and so on) and is planning to expand the work to include habitat improvement and riparian restoration. TGF has been in contact with the New York State Council of Trout Unlimited, and we have offered to assist in funding the work, pending approval.
Willowemoc Barrier Removal: Culvert Remediation
Trout Unlimited has proposed four additional culvert remediation projects for Willowemoc tributaries: Elm Hollow Brook, Bowers Brook, Sprague Brook, and Spooner's Brook. The projects are primarily the installation of proven and experimental baffles (current deflectors) to allow the passage of fish during high water and intense flow conditions. Baffle deflectors provide a cost-effective alternative to full culvert replacement and are much less complicated to install. TGF is very interested in supporting these efforts, and we will offer our support pending a proposal for timing and cost to be provided to us by Tracy Brown. Tracy, Trout Unlimited's northeastern restoration coordinator, was also our key contact and project coordinator for the Horse Brook culvert project.
We are very excited by the progress that we are making on projects such as these, and we are seeking additional projects of this nature. If you are aware of trout stream conservation projects in your area that might benefit from our support, please bring them to the attention of the TGF Conservation Committee for review.